*Shows have been postponed for 30 days.  I will keep everyone updated, but look forward to hopping right back in showing April!*
CONGRATULATIONS and CELEBRATIONS !!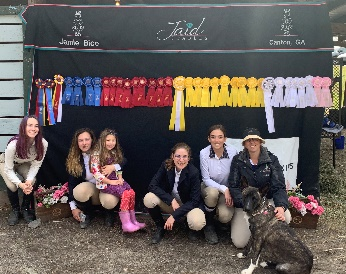 Congratulations to our team on 2 successful shows in March!
*Delaney and Jungle moved up to the 1.0m jumpers. They earned Champion for the weekend in .95m jumpers.
*Clara and Gracie(pony) competed in their very first time out of the beginner ring in the Small pony hunters. They earned great ribbons with a big combined class!
*Gia and Lacey moved up to jumping cross rails. They successfully cantered their first hunter courses and earned Champion.
*Tory and Lacey had their debut in the walk/trot and walk/halt. They earned Champion and learned a lot.
*Hannah and Ben completed in their first show together. This new partnership has been working on learning each other and building confidence. The hard work was proven successful as they earned Champion in the pre-adult hunter division.
*Sarah and Viola ventured back into the hunter ring doing the pre-adults. They were having fun and earned 2nd in the Classic.
*Natalie and Zaine also moved out of the beginner arena for the first time competing in the super competitive division of Short Stirrup. They placed in their over fences. Natalie rode with such confidence.
*Gina and Juliet(horse) competed together in Gina's first ever show in the silver stirrup. Gina won 2 trips in her over fences classes and was awarded Reserve Champion 2 times!
*Juliet and Goodie were looking great in the walk/ halt and walk/trot. Juliet strongly piloted a feisty Goodie in her classes.
*Taylor and Mario completed in cross rails for the first time as a pair. They did great together earning Champion one day and Reserve the next!
*Haley and Jete keep getting better each show. They did their first National Derby and placed 4th! Also getting 3rd in the NAL classic.
*Jacelyn and Vanya competed in the cross rails for the first time as a pair and Jacelyn's first time jumping in a show! They were definately a pair to be noticed in and out of the arena.
House Keeping
A few reminders of barn etiquette as we go into the shedding season. PLEASE: 1. only use the inside wash stall for bathing. This drain gets clogged with hair and dirt. 2. Sweep up before you get on your horse and before putting your horse in its stall (there is a $5 service fee that will be built if you would rather us sweep for you) 3. If you have a laundry package, you are welcome to put your saddle pads in the basket to be washed when they are dirty; Lesson horses are included. If they are not dirty please put saddle pads neatly over saddles (Package can be purchased for $20/month). Side notes: Discount Lesson package payments are due at your first lesson or by the 7th of each month. Board payments are due by the 5th of each month. After these dates payments are subject to $25 late fee.
News/Reminders
We are looking for a few more team clients to complete our team. Please recommend us on any social media you use, to friends, neighbors, really anyone you like. ?

THE CO announces the beginning of a new program designed to give the exhibitor a peek inside the minds and expertise of our judges. It is our hope that by using this program to raise funds we can help to provide some income relief to our staff members who have suddenly lost their primary source of income. We have talked about 2020 being the year of giving and we want to do everything we can to make good on that promise. We have always said that The Co. is more than just a company or a brand. It is a community that has the power to come together and stand up for one another in times of need. PLEASE LET ME KNOW IF YOUD LIKE TO DO THIS!!! I CAN VIDEO A COURSE. WE WILL SET UP A SEPARTE TIME FOR YOU!!

In light of the recent events, we ask that you come see your horse as much as you would like. We would appreciate no outside visitors though. Also, if you are not feeling well, use good judgement and respect for others and stay home. If anyone would like to spend some extra time in the fresh air sanitizing common arenas of the barn, you are welcome to help. I want to make sure we can stay open!

STAY WELL and be smart!
In your grooming bag every lesson:
Vetroline Shine Spray
Shampoo AND Conditioner (for leg and tail washing)
Fly Spray – DO NOT get Bronco
Saddle Soap/Conditioner
Helmet and Boots
Equestrian Community News
Unfortunately, GHJA has decided to follow along with USEF in canceling events for 30 days in efforts to keep everyone safe. There is not a lot of news to report right now. I am on the board, so if you have anything you'd like to see happening or done for our community, let me know!
Clinics
There are 2 clinics posted on our board at the barn.
April 14th: our vet group is hosting a dinner and learning opportunity. It's a great opportunity to all levels. You must RSVP to Katie at

[email protected]



In June, GHJA is hosting an Equestrian Festival at Will's Park. If you want to ride in it, you must fill out an application and send it in. However, all levels are welcome to come and audit. I'd love to see everyone out there for this event!